How to Attract Audience for Your Writing
Admit it.
You want more fans for your writing.
You're tired of writing posts nobody reads and being jealous of other online writers who hit a home run every time they publish.
You know it's possible to attract an audience of loyal fans because you see others doing it, but for you it feels like trying to solve a Rubik's cube while blindfolded.
I'm going to show you how to attract an audience for your writing. You don't have to be a spammy internet marketer or try a bunch of fancy tricks to get people to notice your work.
I'm going to show you how to find readers, develop relationships with them, and market your work with integrity.
Are you ready to get started?
Let's dive in.
The Subtle Psychology of Attracting an Audience Online
I have many author friends.
We all collaborate in a Facebook group and talk about strategies to attract more readers and sell more books.
I found a tactic that virtually guaranteed I'd get 100 subscribers to sign up to my mailing list with each post I wrote. I shared the strategy with them.
They loved it. They all told me they'd try it.
I checked in with them a few weeks later to see their results.
None of them tried it.
A few weeks later, I checked the group again. They were still asking each other about strategies to attract more readers for their list, even though I gave them a solid strategy none of them tried.
Why?
Moments like this cement the idea that tips on their own don't help. If you want to build a writing career and attract the fans you need to make it happen, start with your psychology.
How to Start Taking Action and Stop Sitting on the Sideline
I listened to a podcast with millionaire entrepreneur Derek Sivers, and he said something insightful.
He said people make things seem more complicated than they really are.
He said success isn't easy, but it's simple.
If you want to get in shape, eat right and exercise — not easy, but simple.
People complicate the process by saying things like, "I would work out, but I have to sign up for a gym membership, buy new running shoes, and go to Trader Joe's to buy organic food. I don't have time for that."
Ask someone who is in shape what it takes to get fit, and they'll say, "It's simple. You stop eating crap and start moving more."
The strategy I gave my author friends was straightforward, but they over complicated the situation.
Attracting an audience is simple — You find out where your potential audience hangs out, and you write posts they resonate with.
That's it.
I'm giving you the step-by-step playbook to help you. If you follow it to the letter, it'll work. It won't work, however, if you get in your own way. Your mentality either provides a path to success or a series of obstacles.
On your journey to attracting an audience of fans for your writing, watch out for the common pitfalls most writers fall prey to.
The Number One Writers Tell Themselves
John starts a blog or creates an account on Medium. He writes a few blog posts. Maybe he shares them on social media. He hits publish, waits, and no one shows up.
He decides this writing thing is a sham. After all, he did all the work and no one showed up.
"Why even try?" He thinks. He gives up and blames the everyone else but himself for his lack of success.
John doesn't realize the importance of promoting his work. He believes great work should stand on its own and attract people.
There are many writers like John, who think, "If I build it, they'll come."
If you use logic, it makes no sense.
How are people supposed to find your writing if you don't promote it?
There's room for all of us writers, as long as we put in the extra leg work to succeed. You don't need to feel intimidated by the amount of blogs and other writers out there. Success is more than possible for you, if you take responsibility for it.
Until you take responsibility for your success, things won't work out your way, and you'll get discouraged.
Most writers fail when they shouldn't. They fall into the same traps over and over again.
Me and you are different. We're here to thrive. Let's work on avoiding the pitfalls and start doing work that matters.
Why Most Writers Fail
You want to succeed. I applaud you for your ambition. Be careful, however, because your ambition can turn into your worst enemy.
If you want success so badly it causes you to become self-centered, you'll focus on yourself too much and ignore the signs pointing you in the direction of your desired outcome.
I fall victim to my ego at times.
I'll write a blog post I think should be written instead of asking my readers what they want to learn about.
I'll hastily launch a new product without doing enough customer research.
I do my best to remember my work is for you. I'm here to help you, because I know how it feels to be stuck in the weeds and lost. When I remember why I'm doing the work I do, the process is ten times easier.
If you focus on your goals and your vision alone, you can lose sight of the people who will make or break your writing career. You can't be a successful writer if nobody reads your work.
Your writing isn't about you — not if you want to make a career out of it and income from it. Writing for an audience means writing at the intersection of what you love and what people want to read.
If you only write for yourself, you'll get frustrated when the readers aren't clamoring to read your next book or blog post. You'll get angry at them. You'll think it's their fault, but it isn't.
You didn't serve them.
Your readers don't owe you anything. If your writing doesn't strike a chord, it's your fault. If your book flops, it's your fault.
Responsibility helps you make better decisions. It keeps you moving forward because you know you have the power to change your situation and alter your strategy.
The tips are coming soon, but I want you to master your mind first. Once your head is in the game, the rest is simple. This leads me to a point I must stress for each and every writer.
One Thing to Remember When Attracting Your Following
Will your journey be filled with flowers and rainbows all the time? No. Will you feel like quitting at times? Yes.
On your path to building the writing career of your dreams, please remember the next sentence.
You're good enough.
I mean it.
I know how you feel right now if you're in the beginning stages. You feel a bit lost. You're unsure of yourself. Your confidence hasn't grown to a rock-solid level (yet).
Breathe.
You'll be fine.
I can write circles around the past version of myself. I know ten times more than I did a year ago. A year from now, I'll be even better. Growth never stops.
You'll get better. You'll learn more. You'll grow into a more confident and competent writer.
I wouldn't have written this if I didn't believe in you. It'd be a waste of my time and energy.
You can do this. The question is will you?
Okay. Your mind is in the right place now. Let's talk about attracting fans.
Tools of the Trade
If you want fans for your writing, you need to create a "home base," online for people to find your work.
You want to have your own website instead of having an account on a blogging platform like Medium or Blogger.
Why?
When your writing is on your own website, it looks more professional.
Also, you're free to do what you want with it. Other blogging platforms have restrictions on the features you're allowed to have. Some forbid you from selling anything on their platform.
You want to make money, right? Owning your own website gives you freedom to build a business around your writing.
I talk about this in detail on my how to start a blog page.
Starting your own website is easy. You can start your website for as little as $3 in 10 minutes.
After you start your website, you want to create a system for attracting and retaining readers. The system starts with an email list.
Why You Absolutely Must Have an Email List
You need an email list, because it's the life blood of your writing career.
Email marketing is still the number one channel for reaching fans and customers — strategies like SEO are secondary.
An email list helps you:
Communicate with your readers and send them new material
Learn about their needs and give you new ideas to write about
Create a relationship with your readers
Sell books and other products to your readers
The first three are more important than the last item. You want to develop a relationship with your readers and learn about them before you try to sell anything to them.
Don't think of the people on your email list as numbers on a screen, think of them as people who have granted you the privilege to communicate with them.
Always remember, your readers are at the center of your world. Your job is to inspire, entertain, and educate them.
When you write online, keep your email list in mind at all times. Everything you do should be geared towards people signing up to your list.
List-Building Tools
In order to build an email list, you need to find an email marketing software to collect addresses.
I suggest using Mailchimp — it's free up to your first 2,000 subscribers. Mailchimp is easy to use and great for beginning writers.
I won't go into detail about how to set up Mailchimp. There are several free guides you can find, as well as paid courses to teach you how to master the software.
You can check them out here:
Getting Started With Mailchimp
Ultimate Guide to Using Mailchimp and WordPress
Chimp Essentials (paid course)
In addition to an email marketing software, I suggest using a tool to help you create "landing pages," to collect emails.
How to Use Landing Pages to Grow Your Email List
If you're not familiar with landing pages, here's how they work.
Landing pages only give your reader two choices–perform the desired action or leave. It seems pushy, but sending readers to a page that limits their options increases their chance of signing up to your list.
Here's an example:
For a landing page to work, it needs to have two important elements — a "hook," to pique the curiosity of the reader, and an "incentive," or "freebie," to exchange in return for their email address.
In the example above, you see they've offered a free e-course in exchange for your email address. They also use the hook "one-stop-online shop for writer-related resources." I signed up for this email list because of their promise and their message.
When you create your first few landing pages keep it simple. All you need is a catchy headline, a few bullet points sharing how you'll help your audience, and something free to give away.
Later in the guide, we'll talk about ways to get your writing in front of the right people by publishing on websites other than your own.
When you start guest posting and republishing your work, you'll want to have a landing page to send new readers to. You're allowed to place a link at the bottom of these types of posts. Instead of wasting that link by sending them to your homepage, send them to a landing page instead.
Landing Page Software
I use Leadpages to create landing pages. Leadpages has helped me add thousands of new readers to my list. I like leadpages because it's easy to use. I can create a new landing page in minutes using their software.
I pay $37/month for Leadpages and it's the best money I've ever spent on my writing career.
With Leadpages, you can create a landing page in minutes. They have hundreds of different templates you can use.
Here's a great guide from the company to help you get started:
The Ultimate Guide to Landing Pages
The links I created above for Leadpages are affiliate links, which means I receive a small commission (at no extra cost to you) if you purchase the software through my link.
I promote products I'm proud of. I also want to help people who use my recommended products get off on the right foot. If you sign up for Leadpages through my link, I'll give you a one on one strategy session to show you how to get your first 1,000 email subscribers.
Send me an email at ayo@pro-writer.com after you make a purchase and we'll set up a time to talk.
How to Give Your Readers Multiple Opportunities to Sign Up For Your Email List Using SumoMe
Most online writers make a simple mistake that's costing them tons of new fans.
They don't create enough opportunities for readers to sign up for their email list. In some cases, they don't have sign up forms on their website at all. If you place a few forms across your site in a strategic way, you'll get more visitors to sign up for your list.
I found a tool that makes collecting emails dead simple. It's called SumoMe.
SumoMe has four different email collecting features:
Welcome Mat – Welcome Mat is an email collection form that takes up the entire screen when a user visits your site
List-Builder – List builder is a timed pop up that doesn't show until the time you set it to show after a user visits
Scroll Box – Scroll box is less intrusive. It's an email collection form that appears on the bottom right hand corner of the screen while someone reads your writing.
Smart Bar – Smart bar is the least intrusive (but also least effective) collection form. It appears at the top of your website.
A note on pop ups: I know you might think pop ups are annoying, but they work. The data shows they help you add more readers to your email list. You can choose how aggressive you want to be with your use of pop ups, but I suggest having at least one on your website.
Here are some great guides on using SumoMe to expand your list:
How I used SumoMe to Increase My Email List by 10x Overnight
How to Install and Set Up SumoMe
My Philosophy on List Building
When it comes to building your writing career, your email list is by far your number one asset.
You're a writer, so you care about putting words together in a beautiful way. Successful writers combine art and marketing. You don't have to sell your soul to attract fans for your work, but you do have to make an effort to engage with them.
Without an email list, it's harder to succeed. Do you ever wonder why certain online writers sell thousands of books during their first week or launch products that make six figures?
It's because they have large email lists.
My writing is for joy, for me, and for you, but it always has a marketing component behind it. I provide value, so I'm not ashamed of promoting my message.
Your words are valuable. You can and will benefit people through your writing. Get them on your email list so you can build a relationship, provide value, and earn an income with your work.
See how we're going from bottom to top? I could've started this guide by going straight into tips and tricks, but without the foundation, these strategies won't work.
We're here. Let's get to the good stuff. Here's everything I know about finding new readers for your work.
The One Mental Shift That Will Help You Explode Your Audience Growth
I've hinted as this idea in previous paragraphs. The more you center your writing goals around other people, the quicker you'll attract an audience.
In addition to that, the more you center your writing around other places, the quicker you'll attract an audience.
It may sound counter intuitive, but your website is the last place you want to focus on when it comes to attracting an audience for your writing.
If you're just starting out, nobody knows your website exists, so why would they visit it?
It won't show up on Google. You probably don't have a gigantic social media following to promote to.
If you just write blog posts on your blog, you'll never gain fans.
Instead, you want to get your writing in front of large groups of people who are already interested in your topic. If you write something for them that knocks their socks off, they'll join your community.
You want to "siphon," away readers from popular websites through guest posting and republishing.
Guest Posting 101
Guest posting has multiple benefits. First, it helps you build your email list. When you write a guest post, you're allowed to place a link to your website in the "bio," portion at the end of the blog.
This is where landing pages come in. Instead of placing a link to your website's homepage in the bio, place a link to your landing page. If someone clicks on the link they are interested your writing. If you send them to a landing page it gives them an opportunity to continue the relationship.
When you click on Cathy Presland's link in her author bio, you're sent to this page. She offers a free guide on writing your first book, which relates to the guest post she wrote. Someone who just read her blog post, which was about writing books, would love to get this guide.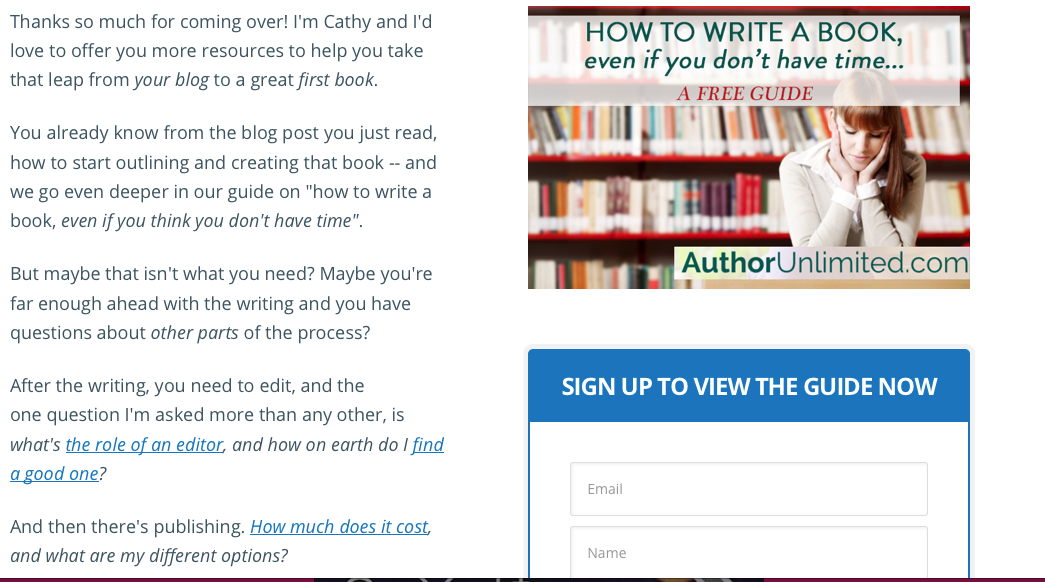 What was once a casual reader can turn into a loyal fan with just one click. Online writers use this guest post strategy to attract new fans. It's a cornerstone of marketing for online writers.
In order to win fans through guest posting, you're going to have to write a stellar post. You want to aim for it to be in the top five percent of posts ever written on the site.
Here are some awesome guides on writing guest posts that blow readers away:
Why You Suck at Guest Blogging (and What The Pros Do Differently)
7 Crucial Tactics for Writing a Wildly Successful Guest Post
How to Write an Effective Guest Post for High-Traffic Bloggers
How to Find Out Where Your Audience Hangs Out
You want to put your writing in front of people who are already interested in your subject. If there are popular blogs in your topic you already read, that's a great place to start.
You can also use tools like Google to search for blogs in your niche.
Start with a simple Google search of your topic. For example, my search might be "best websites for writers," or "best writing tips."
The search "best websites for writers," yielded a link to a list of 100 writing  blogs. If you use the word "best + your topic," you'll usually find these types of posts, which should give you more than enough blogs to choose from.
The search "best writing tips," also provided promising websites to explore.
When you find a website that looks promising, click through and investigate whether or not they allow guest pots.
There are two ways to find out if the website accepts guest contributors.
Many of them will have a "write for us," section that clearly spells out guidelines for becoming a writer on the site. If you find a section like that, follow the guide lines to the letter to submit your idea.
If there isn't a "write for us," section, you'll have to do some investigating to see if they accept guest contributors.
You'll want to find out if there are contributors to the website other than the blog owner. If so, it's likely they accept guest posts. If they don't advertise their guest posting opportunities, it's because they're inundated with pitches and don't want their inbox to be flooded.
You can still get them to accept your guest post, but it will take a careful approach.
In short, you have to find their email address and pitch them a potential idea for a guest post. Blog owners are always looking for great content, and if your idea is good they'll give you a chance.
When you submit your pitch, you'll want to introduce yourself, propose a few headline ideas, and show them some samples of your work.
Your pitch might look something like this:
"Hi Joe,
My name is Ayodeji and I'm a huge fan of writercircle.com. I especially enjoyed your post on book revision tips. I have a few ideas for guest posts I think your readers would love. Do you have a minute to check them out?
Here they are:
The Ultimate Guide to Submitting Query Letters
How to Write a Novel in 90 Days
The Top 10 Tools for Self-Publishing
Let me know if any of these work for you. If not, no worries, I'll just go back to the drawing board and come up with more.
Here are some samples of my writing to help you get a feel for my style and voice:
The Ultimate Guide to Building a Writing Habit That Sticks
How to Be a Relentless Writer Who Never Quits
Have a great day."
Here are some great guides on finding great guest post opportunities pitching like a pro:
The Ultimate Guide to Guest Blogging
The Definitive Guide to Guest Blogging
3 Guest Post Pitch Emails That Got the Gig
If you want to attract a large and loyal audience from scratch, you can guest post your way to the top.
How to Get Extra Mileage out Of Your Posts With Republishing
Most writers think of their blog posts as one-time sources for attracting new readers and adding subscribers to their email list. Smart writers know their work can be placed in multiple areas to increase reach and expand influence.
When I write a blog post for my website, it gets republished in different areas across the web. This strategy makes my posts much more effective than they'd be if I only published them on my site.
With guest posts, the blogs usually want original content. There are popular websites that allow republishing, and you can use them in the same fashion as a guest post.
You'll want to add your bio at the end of your post that links to a landing page for people to sign up to your email list. If you're allowed to add links to other posts within the body of your post, ever better.
You want to aim for publications large enough to need a high volume of blog posts. Their need to keep new posts coming makes it possible for you to republish.
Here are some of my favorite places to republish my work.
Medium
Medium is the best platform for writers on the internet.
Anyone is allowed to create a Medium account and start publishing their work. The best part about Medium is the idea of providing a level playing field for writers.
On any given day, your work can be featured next to a New York Times best selling author, a feature piece from the Washington Post, or a presidential candidate.
Mediums algorithms work on "recommendations" and "tags."
When people recommend your articles, Medium gives them more weight in the algorithm. Both writers and readers use "tags."
Writers use tags to tell Medium what their article is about. Readers use tags to pick the type of articles they want to read. It helps you find people who want to read your type of writing.
With that being said, you do need to garner a following to make your writing stand out and be accessible to more people.
For detailed information on creating a following and republishing on Medium, some great guides are:
The Huffington Post
The Huffington Post used to be much harder to write for than it is now.
Honestly, it doesn't take much to have your work featured on the site anymore. If you have a few solid writing samples and can craft a good pitch, you'll be accepted into their publication.
The best way to have your work featured on the site is to contact the editor of the "vertical," you want to write for and send them a pitch.
Introduce yourself, provide some samples of your previous work, and send them a few ideas for posts to write on the site.
You can refer back to the guest post pitching guides from earlier to help you craft the pitch.
Other Sources For Republishing
There are hundreds of websites across the internet where you can republish your work. Your job is to find them. I've given you a head start, now you have to do some additional leg work to find opportunities to spread your writing far and wide.
The team over at SumoMe created an excellent republishing guide, including a large list of sites you can use to republish.
Here's the guide:
How to Get Featured on Large Publications (Without Guest Posting)
Take the Online Writing World By Storm
There's more than enough room for you in the online writing world. Don't get intimidated by the amount of writers online.
To tell the truth, there isn't much competition. Sure, there are a lot of people who start blogs, but most of them fizzle out. Every popular writer you see decided to put in the work.
If you do the work, you'll get amazing success. There's no secret pill or magic bullet.
Remember, attracting an audience for your writing isn't easy, but it's simple.
If you're just getting started, you have nowhere to go but up.
Many people will read this guide and move on, but I wrote this because I know one, two, three, or a handful of you will follow through.
Are you the person I wrote this for?
I hope so, because you won't believe what's on the other side if you take the time to grow.
I'll see you at the top.